< Back to Research Themes
Quality of Life Survey 6 (2020/21)
Launch of the results from our Quality of Life Survey 6 (2020/21)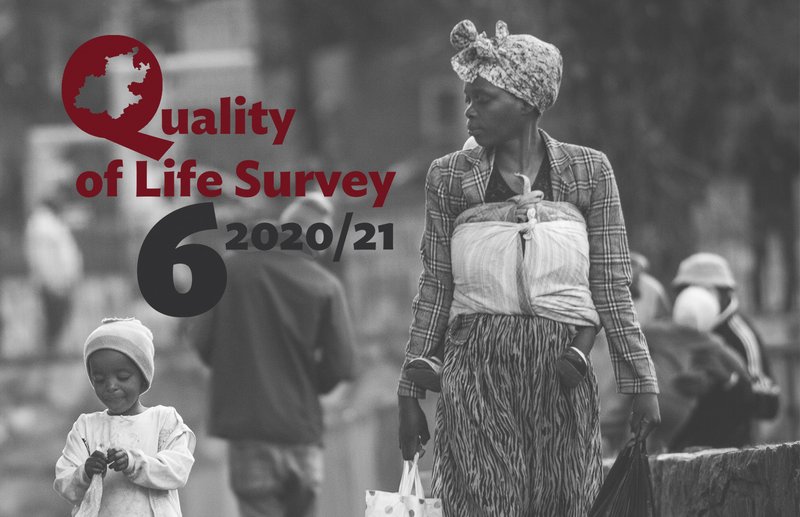 Photo by Simon Wolfson
Launch outputs
Quality of Life Survey 6 (2020/21): Overview report
Effects of the COVID-19 pandemic on the Gauteng City-Region: Findings from the GCRO's Quality of Life Survey 6 (2020/21)
The Quality of Life Index 2020/21 - interactive visualisation
Recording of the event on YouTube
The Quality of Life Survey 6 (2020/21) was launched on 9 September 2021 with an online event and a live stream to YouTube attended by the public, the media, researchers and government officials in South Africa and abroad. Professor Lynn Morris, Deputy Chairperson of the GCRO Board, and University of the Witwatersrand Deputy Vice-Chancellor: Research & Innovation, welcomed our online guests and thanked all the partners, service providers, fieldworkers and respondents for their efforts in making the sixth iteration of the survey a success during a particularly challenging period. Dr Julia de Kadt, GCRO senior researcher and lead of the Quality of Life Survey project, and Mr Graeme Gotz, GCRO's Director of Research Strategy presented headline findings from the survey data.
The survey findings reveal just how much socio-economic fallout the COVID-19 pandemic has had for Gauteng province. A full 11% of all adults in Gauteng lost a job since March 2020, while 4% were forced to permanently close a business. Of those who lost a job or closed a business, only 44% subsequently found new employment. There are, however, also indications of positive responses from both government, and society as a whole. Almost a quarter of households in Gauteng included an adult who received the COVID-19 Social Relief of Distress (SRD) grant, while 13% received food support, and levels of community trust have risen dramatically.
The overall impact of all these changes (positive and negative) is shown by our Quality of Life index, which provides a measure of multi-dimensional well-being, drawing on 33 variables, grouped into seven dimensions. The QoL Index score for 2020/21 is notably lower than in 2017/18, falling from 64 to 61. This is a return to 2013/14 levels and reverses the gradual upward trend in Index scores over time.
The launch presentation was responded to by a panel of guest speakers chaired by GCRO's new Executive Director, Mr Rashid Seedat. The panel included Dr Nic Spaull, Co-principal Investigator of the NIDS-CRAM survey and Senior Researcher, Economics Department, Stellenbosch University; Cllr Aletta Mashigo, SALGA Gauteng Chairperson and Councillor, City of Ekurhuleni; Mr Ray Hartley, Deputy Director, Brenthurst Foundation; Dr Ayodele Odusola, SA Resident Representative UNDP; and an overarching response from Mr Mduduzi Mbada on behalf of the Honourable Premier of Gauteng, Mr David Makhura. A recording of the event is available on our YouTube channel.
GCRO has published preliminary analysis of the data in two reports: Quality of Life Survey 6 (2020/21): Overview report and Effects of the COVID-19 pandemic on the Gauteng city-region, and an interactive visualisation: The Quality of Life Index 2020/21. The dataset will be freely available under the CC BY-SA 4.0 license from the DataFirst service from October 2021. Additional in-depth analysis and outputs will be published over the coming months.
Technical Documentation
Naidoo, Y., & de Kadt, J. (2021). Quality of Life Survey 6 (2020/21): Quality of Life Index methodology. Johannesburg: Gauteng City-Region Observatory (GCRO).
Data
The dataset will be freely available under the CC BY-SA 4.0 license from the DataFirst service from October 2021. For more information please email info@gcro.ac.za.
Media
A media pack with press release and images is available to journalists.
Media inquiries and requests for interviews with GCRO researchers should be directed to Deborah Minors: deborah.minors@wits.ac.za.
Background to the survey results
Data collection
Data collection for the sixth iteration of the GCRO's flagship Quality of Life Survey 6 (2020/21) was completed in late May 2021. With strict COVID-19 safety protocols in place, GeoSpace International fieldworkers conducted 13 616 interviews with randomly sampled respondents across all of Gauteng's 529 wards.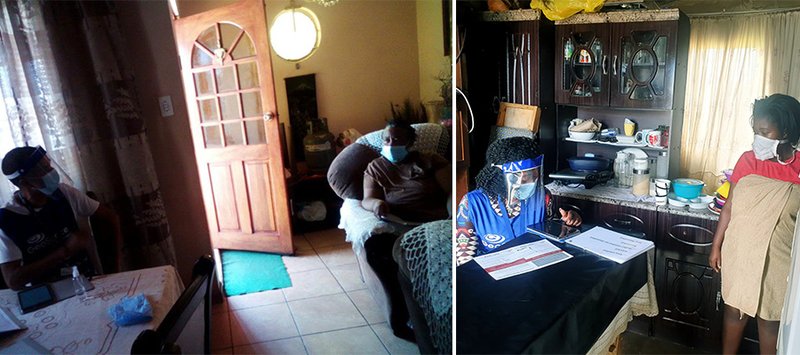 Quality of Life survey fieldwork. Photos by GeoSpace International.
Preparations for QoL 2020/21 started in 2019, and have been substantially informed by the Quality of Life ten year review. Funding for this iteration has been sourced from the Gauteng Provincial Government, with additional contributions from the Cities of Ekurhuleni, Johannesburg and Tshwane. Following a rigorous tendering process, GeoSpace International was appointed as the QoL 2020/21 service provider. GeoSpace previously implemented QoL III (2013/14), and has extensive experience with large-scale household-based data collection in South Africa.
The survey questionnaire is slightly shorter than in previous iterations, but we retained our longitudinal core. We also incorporated modules providing deeper insights into issues of governance, social mobility, and interpersonal violence, along with questions on the impact of COVID-19 on respondents' lives. Respondents were recruited from randomly selected dwelling units across every ward in the province. Ethical clearance was received from the University of the Witwatersrand Human Research Ethics Committee (non-medical).
Training for data collectors took place in two phases, during the weeks of September 28, 2020, and October 19, 2020. Training events took place with strict COVID-19 prevention protocols, with screening, social distancing, masks and sanitiser, and good ventilation in place.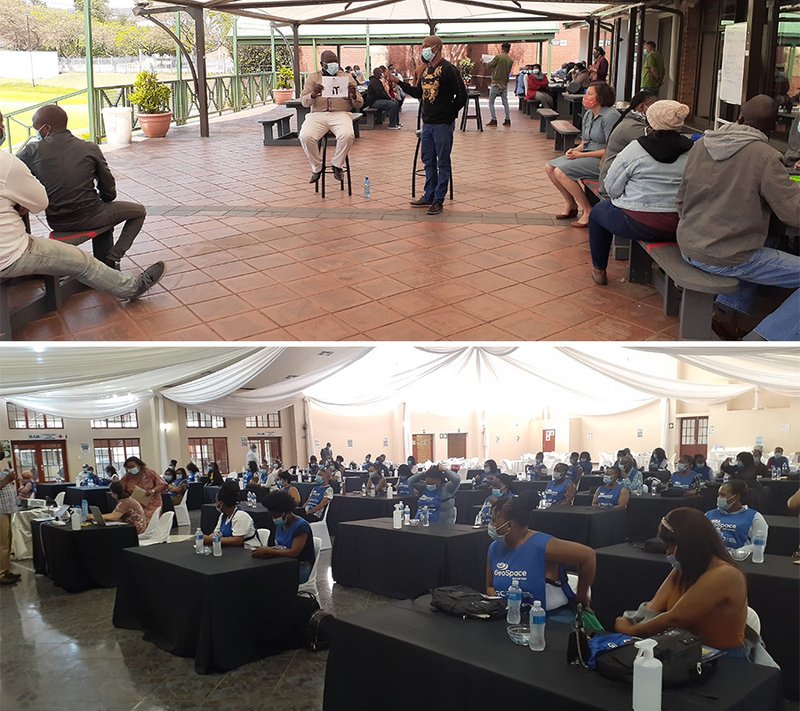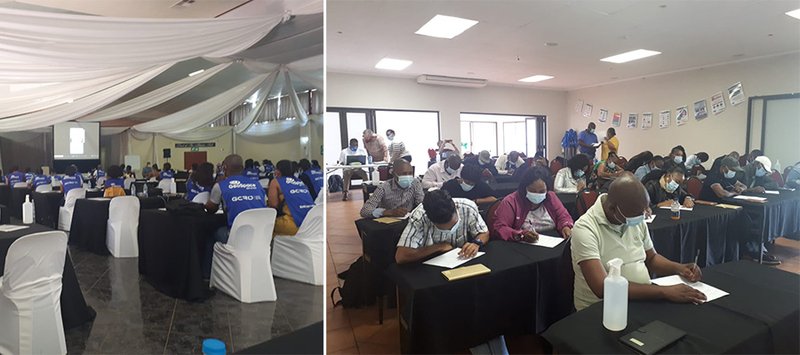 Quality of Life survey training. Photos by GCRO.
A successful field pilot took place during the weeks of October 5 and 12, with over 100 interviews fully completed. The pilot provided valuable feedback on all aspects of data collection, and allowed us to fine-tune various aspects of the project. Full-scale data collection began on 26 October 2020.
Quality of Life 10 year review
Planning and implementation of the Quality of Life 2020/21 Survey has been strongly informed by the findings of the Quality of Life 10 year review project.
Other Quality of Life surveys
All Quality of Life survey data is made freely available under a CC BY-SA 4.0 license. Data can be accessed via the DataFirst service based at UCT, or on request from the GCRO.
Overview of the Quality of Life Survey
Quality of Life Survey 6 (2020/21)
Quality of Life Survey IV (2015/16)
Quality of Life Survey III (2013/14)
Quality of Life Survey II (2011)
Quality of life Survey I (2009)
Last updated: 12 November 2021.